News & Events
Congratulations Dr Sanjay Jayasinghe winner HDR publication of the year
Aug 2018 - News
Congratulations Dr Sanjay Jayasinghe, Research Fellow NCIRS, winner of the
University of Sydney,
Children's Hospital Westmead Clinical School Higher Degree by Research publication of the year.
Dr Jayasinghe received the award for the publication as below from his PhD work examining the effectiveness of pneumococcal conjugate vaccines in children.
Jayasinghe S, Chiu C, Quinn H, Menzies R, Gilmour R, McIntyre P.
Effectiveness of 7- and 13-valent pneumococcal conjugate vaccines in a schedule without a booster dose: a 10-year observational study.
Clinical Infectious Diseases 2018;67:367-74.
[Abstract]

Congratulations Sanjay!
---
Have you had your diphtheria vaccines? Here's why it matters
Aug 2018 - Meru Sheel, and Kristine Macartney - News
Meru Sheel, University of Sydney and Kristine Macartney, University of Sydney
An adult from the north coast of New South Wales is the latest Australian to be diagnosed with the deadly infectious disease, diphtheria. The patient, who was diagnosed on Monday, is being treated with antibiotics and health authorities have followed up all contacts.
Few doctors and nurses in Australia have ever seen the disease, yet recent cases and a death remind us how dangerous this disease can be, and the importance of immunising against it.
Diphtheria vaccine (in combination with tetanus and pertussis - also known as whooping cough) is offered free to all children at two, four and six months of age. Three booster doses are recommended at 18 months, four years and around age 12 years in the national school-based immunisation program. Adults are also recommended to catch-up on vaccination if they missed out as a child.
---
Read more: Forget 'no jab, no pay' schemes, there are better ways to boost vaccination
---
What is diphtheria?
Diphtheria is caused by toxin-producing strains of the bacterium Corynebacterium diphtheria and Corynebacterium ulcerans, which mostly affects the throat and airway. It causes grey and white patches on the tonsils that can form a membrane and make it difficult to breathe.
This respiratory form of the infection can also cause massive swelling of the neck, known as "bull neck". Heart, kidney and neurological complications can follow.
Diphtheria commonly spreads from person to person through spitting and coughing. A less serious form is skin sores, but the infection can also spread through these painful skin lesions.
Patients are treated with antibiotics to clear the bacteria and stop toxin production and limit the spread of bacteria to others.
Antitoxin
The disease-causing bacteria was discovered and identified in 1884 by German bacteriologists.
The disease was incurable until Emil von Behring showed that giving patients serum from animals previously infected with diphtheria, known as antitoxin (antibodies to the toxin produced by the bacteria), could save their lives. He posthumously received the first ever Nobel Prize in Physiology and Medicine in 1901.
Once diphtheria antitoxin was available, the number of cases of diphtheria dropped, but it was still a massive killer. In the United Kingdom in 1945, around 9,000 children died of diphtheria, compared to 8,000 due to bombing.
Vaccine
The discovery of a vaccine against diphtheria in 1923, and the development of the combination vaccine for diphtheria, tetanus and pertussis (DTP) in 1948 is one of the greatest public health stories of all times.
In the early 1970s, prior to widespread immunisation, there were around one million cases of diphtheria worldwide each year.
Forty years later in 2016, 86% of children worldwide had received three doses of the vaccine by the age of one and the number of cases dropped to just over 7,000.
These successes and the decline in cases almost led to diphtheria being a "forgotten disease".
Major recent outbreaks worldwide
Large-scale outbreaks of diphtheria have been reported in Haiti in 2014, Venezuela in 2016, Yemen in 2017, Indonesia in 2017 and among the displaced Rohingya population in Cox's Bazar, Bangladesh in 2017.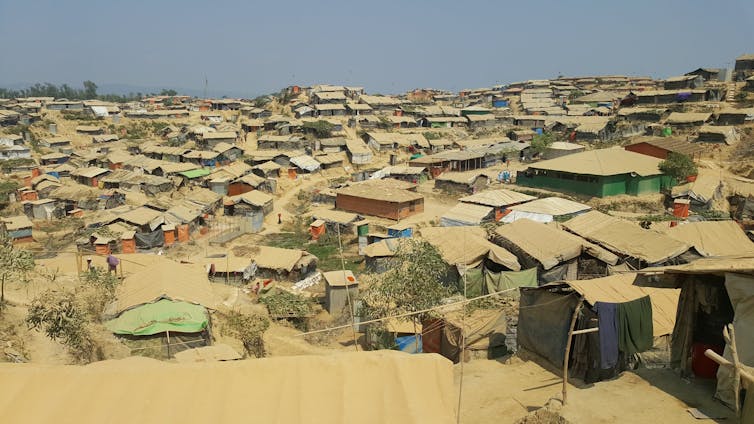 Rohingya Camps in Cox's Bazar, Bangladesh – site of a recent outbreak of diphtheria with more than 6,000 reported cases. Meru Sheel, Author provided
These outbreaks are largely preventable and are a result of failing health systems and immunisation programs. Low immunisation coverage for three doses of diphtheria vaccine of 63% in Haiti, 59% in Venezuela, 60% in Yemen and 62% in Myanmar, was a common factor.
The outbreak of diphtheria in Indonesia tells us that low and incomplete immunisation, along with several other factors, also contribute, including increasing antibiotic resistance, vaccine distribution issues and population mobility, as well as people's perception of vaccines.
---
Read more: Indonesia's diphtheria outbreak: problems in vaccination and antibiotics efficacy
---
A similar epidemic occurred across former states of the Soviet Union in the early 1990s following dissolution of the USSR, when immunisation levels plummeted.
Diphtheria in Australia
Diphtheria vaccination in Australia began in late 1920s and was included in the first era of mass vaccination campaigns. The disease has been well-controlled in Australia since routine childhood vaccination began in 1950s.
Between 1991 and June 15, 2018, there were 37 notifications for diphtheria, with only one case between 1993 and 2010.
But case counts have risen in recent years, with 31 people affected since 2011. While some had the milder form of skin sores, deaths from respiratory diphtheria were reported in 2011 and in 2018, both in young adults who were not immunised.
What's the solution?
Overall, Australia has achieved high diphtheria vaccine coverage, with more than 94% of children vaccinated. This helps provide herd immunity against the disease.
---
Read more: Explainer: what is herd immunity?
---
The risk of diphtheria comes from these recent multi-country outbreaks and pockets of low vaccine coverage in Australia. Local cases in regions with historically low vaccination rates in children (less than 90%) stress the importance of catching up adults who may have missed vaccines in childhood.
The diphtheria vaccine is safe, effective and funded under the National Immunisation Program.

These recent cases are a reminder of why we need to continue to vaccinate against disease now considered rare in Australia. They also underpin the importance of Australia's contribution to strengthening of health systems and immunisation in the region.
Meru Sheel, Epidemiologist | Senior Lecturer, University of Sydney and Kristine Macartney, Professor, Discipline of Paediatrics and Child Health, University of Sydney
This article was originally published on The Conversation. Read the original article.
More information »
---
Enhanced flu vaccines for people aged 65 years and over - MEDIA Release
Jul 2018 - News
In response to the severe 2017 influenza season, the Australian Government has funded two new enhanced influenza vaccines for people aged 65 years and over. The vaccines could boost the effectiveness of protection by about 25% compared to standard influenza vaccines, according to the authors of a Perspective published online by the Medical Journal of Australia.
Influenza is the leading vaccine-preventable cause of morbidity and mortality each year in Australia. Older people are particularly at risk of severe outcomes, such as hospitalisation, pneumonia, acute myocardial infarction and death. In 2017, 22% of all 249 932 notified influenza cases occurred in people aged 65 years and over.
The National Immunisation Program funds annual influenza vaccines for older Australians, with quadrivalent influenza vaccines (QIVs) replacing trivalent inactivated influenza vaccines (TIVs) in 2016.
However, according to the Perspective authors, led by Dr Sarah Sheridan, a public health physician at the National Centre for Immunisation Research and Surveillance, and a Research Fellow at the University of New South Wales, "the effectiveness of both the standard dose TIVs and QIVs in older people has been relatively poor, particularly against influenza A/H3N2, which consistently causes a higher proportion of disease among [people] 65 years and over as compared with other age groups".
"Immunosenescence — broadly defined as decreased immune responses in older people — likely contributes to lower vaccine effectiveness, meaning that those most affected by influenza are also least likely to gain protection from vaccination," Sheridan and colleagues wrote.
The two new enhanced TIVs are only registered and funded for people aged 65 years and over. They improve protection against influenza by eliciting "greater antibody responses" compared with standard TIVs. One vaccine does this by including a higher dose for each strain, whereas the other vaccine contains an adjuvant that helps boost the immune response.
"One clinical trial, in which about 16 000 participants received high dose TIV, found the relative vaccine efficacy of high dose TIV across two influenza seasons, compared with standard TIV, to be 24% against laboratory-confirmed influenza overall, including 23% better against influenza A/H3N2," Sheridan and colleagues wrote.
"Protection against influenza-related pneumonia was enhanced by 40%."
Although there have been no significant safety issues with the two enhanced TIVs, mild side-effects are more common for both compared with standard TIV, the authors wrote.
"Pain is the most common local reaction, occurring in 36% of high dose compared with 24% of standard TIV recipients, and 32% of adjuvanted compared with 17% of standard TIV recipients. Systemic reactions occurred in about a third of high dose and adjuvanted TIV recipients. Severe local or systemic reactions were rare (under 1%)."
They concluded that the new TIVs are likely to provide "modest additional protection against influenza which may vary from season to season". On average, standard vaccines reduce the risk of influenza by around 40–50%.
"Theoretically, applying the relative increase in protection provided by the new TIVs, would see these enhanced TIVs have an effectiveness of around 55-63%."
Read more in Under the microscope: enhanced flu vax for elders - MJA InSight 27, 16 July 2018
The Medical Journal of Australia is a publication of the Australian Medical Association.
More information »
---
April - June 2018 - Newsletter
Jun 2018 - Newsletters
Download the file »
---
Closing the vaccination coverage gap in New South Wales: the Aboriginal Immunisation Healthcare Worker Program
Jun 2018 - News
A targeted program to meet the needs of Indigenous Australians has made a significant improvement to the vaccination coverage rates and timeliness in New South Wales and "closed the gap" since its introduction in 2012, according to the authors of research published online by the Medical Journal of Australia.

The Aboriginal Immunisation Healthcare Worker (AIHCW) program, funded by NSW Health to the tune of $1.3 million per year, placed up to 13 fulltime-equivalent AIHCW positions in public health units across NSW.
Using data from the Australian Immunisation Register (2008-2016), the researchers, led by Dr Alexandra Hendry from the National Centre for Immunisation Research and Surveillance, found that "the proportion of Indigenous and non-Indigenous children classified as fully vaccinated at 9, 15, and 51 months [of age] increased significantly in both NSW and the rest of Australia after the introduction of the AIHCW Program".

"The mean annual difference in full vaccination coverage between Indigenous and non-Indigenous children in NSW aged 9 months declined from 6.6 during 2008–2011 to 3.7 percentage points during 2012–2016; for those aged 15 months it declined from 4.6 to 2.2 percentage points; and for those aged 51 months it declined from 8.5 to 0.6 percentage points.

"In 2016, there was no statistically significant difference in coverage at any of the three milestones in NSW: at 9 months the difference was 1.6 percentage points; at 15 months, 0.4 percentage points; and at 51 months, –1.8 percentage points.

"For Indigenous children aged 9 months, coverage rose from 78.9% in 2008 to 89.5% in 2016, and for non-Indigenous children from 85.6% to 91.1%. For Indigenous children aged 15 months, coverage rose from 78.8% in 2008 to 88.4% and for non-Indigenous children from 82.5% to 88.7%," Hendry and colleagues wrote.
AIHCWs do not require formal qualifications, their role being to work with their communities and with individuals to promote the better use of existing vaccination services, rather than to directly provide vaccination services.
"Key activities of AIHCWs, most of whom are Indigenous Australians, include contacting parents of Indigenous children before scheduled vaccinations (pre-call notices), following up Indigenous children recorded on the Australian Immunisation Register as not being up to date with vaccinations, improving Indigenous identification, equipping providers with tools for monitoring timely vaccination of Indigenous children, and promoting vaccination in their local Indigenous communities," Hendry and colleagues wrote.

"[Our results suggest] that the commitment of significant resources to a dedicated program specifically targeted to the needs of Indigenous Australians, staffed by Indigenous workers who know their communities and are able to engage with them in a culturally appropriate way, may help overcome barriers to timely vaccination and have a marked impact on closing the vaccination coverage gap between Indigenous and non-Indigenous Australian children."
More information »
---
PHN immunisation online community launches with calls for further collaboration
May 2018 - News
NPS MedicineWise and the National Centre for Immunisation Research and Surveillance (NCIRS) have launched an online PHN immunisation community designed to serve as a central hub where PHN staff can have the latest evidence-based information, tools and immunisation resources at their fingertips.
The online community encourages PHN immunisation staff to share ideas, best practice and collaborate with peers across Australia.
With news, updates and the latest immunisation guidelines, the online resource offers a national, coordinated approach to help PHNs to deliver immunisation programs that are consistent with the goals of the National Immunisation Program (NIP). PHN staff, Commonwealth and jurisdictional health and human services department staff and other key stakeholders will have access to the online resources.
NPS MedicineWise and NCIRS have collaborated to develop the online community using the NIP framework and incorporating insights gathered through interviews and co-design workshops with key immunisation stakeholders in health communities across Australia.
Dr Lynn Weekes, CEO of NPS MedicineWise says, "This is excellent use of technology – creating an online environment, a central hub for PHN staff who have to keep abreast of the latest changes to immunisation protocols and guidelines. While it offers practical information that will help to ensure PHN immunisation staff can support local providers in the best possible way, it is an online community where they can network, share ideas and actively collaborate with their peers."
An advisory group has been established to provide strategic guidance from a stakeholder perspective on the priorities and performance of the program. The group is co-chaired by Professor Kristine Macartney, Director of NCIRS, and Learne Durrington, CEO of WA Primary Health Alliance.
Professor Macartney says, "The PHN online community gathers key messages that PHNs are tasked to communicate to immunisation providers in their areas. Additionally, we will support PHN staff by answering their immunisation questions. PHNs can be confident that any information they receive is from reliable sources, and will offer up-to-date, evidence-based immunisation information."
Community engagement will be encouraged by offering face-to-face and online opportunities where PHN staff can share and exchange ideas and information with other PHNs and key stakeholders.
PHN staff are encouraged to register at phnimmunise.org.au to access the latest immunisation information.
Media enquiries
Eve Hanks:
0419 618 365
ehanks@nps.org.au
---
Updated NCIRS Factsheets - Human papillomavirus (HPV) vaccines for Australians and HPV vaccines – frequently asked questions
May 2018 - News
The following factsheets have been updated and are now available on the NCIRS website:
The factsheet has been updated to include information on Gardasil®9.
These and other NCIRS factsheets are available on the NCIRS factsheets webpage.
---
January - March 2018 - Newsletter
Mar 2018 - Newsletters
Download the file »
---
Updated Factsheets - Meningococcal vaccines for Australians and Meningococcal vaccines – frequently asked questions
Mar 2018 - News
The following fact sheets have been updated:
The updates include the latest information on jurisdictional programs and information on a newly registered Meningococcal B vaccine, Trumenba®. 
 These and other NCIRS factsheets are available on the NCIRS factsheets webpage.
More information »
---
Media Release - 'No Jab No Pay' drives adolescent measles vaccination catch-up
Mar 2018 - News
A new report from the National Centre for Immunisation Research and Surveillance (NCIRS) shows that over 43,000 10- to 19-year olds received a catch-up second dose of measles-containing vaccine in 2016, most of these likely actioned as a result of the federal government's 'No Jab No Pay' policy.
This report is the first look at catch-up vaccination in adolescents since the introduction of the federal government's 'No Jab No Pay' policy on 1 January 2016.[1] Data from the newly expanded national immunisation register was used for this analysis.
The report also found the proportion of children fully immunised at 1 and 5 years of age had reached the highest levels ever recorded in mid-2016 (at 93.9% and 93.5% respectively), likely due, in part, to the introduction of the 'No Jab No Pay' policy.
Dr Frank Beard, public health physician, and head of coverage and surveillance at NCIRS, described the level of measles vaccination catch-up in adolescents and improved immunisation rates in younger children as important outcomes.
"While Australia has been certified free of local measles, we need to maintain high immunisation rates as we are constantly at threat from measles coming into the country from overseas and spreading locally," he said.
"Measles catch-up vaccination in adolescents is particularly important, as recent outbreaks have disproportionately affected this age group due to inadequate vaccination," he added.
In the 2012 measles outbreak, the largest in Australia since 1997 (168 cases) arising as a result of a traveller returning from Thailand with measles,[2] the 10- to 19-year-old age group was over-represented, accounting for almost one third of cases.
The NCIRS report complements the Australian Institute of Health and Welfare "Healthy Communities" reports on immunisation rates at local area level, also released on Thursday, by highlighting whether vaccines are given on time, and the uptake of specific vaccines, including those given only to Aboriginal and Torres Strait Islander children. The report also shows trends in the numbers of children with a registered medical vaccination exemption.
View the 2016 NCIRS Annual Immunisation Coverage report and summary of key findings
View the AIHW 'Immunisation rates for children 2016–17' and 'HPV immunisation rates 2015–16' reports 
Media contact:
Sheri Locmayon
Public Relations Department
The Children's Hospital at Westmead
P: (02) 9845 3364
E: sherilyn.locmayon@health.nsw.gov.au
More information »
---
1 2 3 4 5 6 7 8 9 10 11 12 13 14 15 16 Next